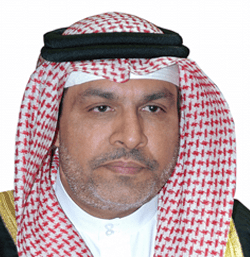 President
Prince Mohammad Bin Fahd University
Throughout his career, Dr. Al Ansari emphasized the principle of youth empowerment and leadership. His vision to education is to build global citizens equipped with adequate competencies to face tomorrow's world, grow up to its challenges and lead its development. He led the design of a new university with a focus on learning rather than teaching, and on developing competencies rather than providing mere circumstantial knowledge. This vision shaped the establishment of one of the most highly regarded and leading institutions of higher education in the Kingdom of Saudi Arabia: The Prince Mohammad Bin Fahd University.
Dr. Al Ansari also led the efforts of establishing a premier youth employment and development program: The Prince Mohammad Bin Fahd Program for Youth Development. The program touched the lives of thousands of young Saudis; it steered efforts to train young men and women, provide employment for thousands of them, promote values of citizenship, equal opportunity, inclusivity, entrepreneurship and leadership. The Program served underprivileged youth as well as special needs individuals; it rehabilitated hundreds of young men and women until they became fully integrated as active and productive members of the society; it funded and incubated youth projects and implemented women empowerment programs and campaigns.
Founding President
Early in the year 2000, many prominent businessmen in the Eastern Province of Saudi Arabia gathered around the idea of HRH Prince Mohammad Bin Fahd Bin Abdul Aziz, then Governor of the Province, to establish a university that locally provides top tier higher education with international standards. The project soon gained unprecedented momentum involving international experts in the design of the academic and administrative systems. Dr. Al Ansari was soon appointed as Founding President of the young university. Under his leadership, PMU took off as a promising, ambitious, and forward-looking university, and gained outstanding local recognition, and a fast-growing international reputation. Employers quickly realized that PMU graduates became unarguably some of the finest in the region, known for discipline competency, but most importantly for profiles that demonstrate strong leadership, communication, teamwork and critical thinking skills.
Since its establishment, Dr. Issa led successful efforts of PMU in quality and accreditation, learning and research, global engagement and most recently, academic expansion with the introduction of multiple new graduate and undergraduate programs, the establishment of new institutional initiatives such and the Center for AI, the Center for Futuristic Studies, the Cybersecurity Institute, the Prince Turki Center for Creativity and Entrepreneurship, the long awaited mega project of the PMU Medical School and Teaching Hospital, the unique and outstanding Prince Sultan College for the Visually Impaired, the PMU Schools and the new Housing Compound. According to his vision, each of the projects and programs is always carefully designed and planned to respond to international quality standards, but most importantly, each projects started by pre-defining its added value to the community and to the currently existing ventures and initiatives.
A Public Career
Early in his academic career, Dr. Al Ansari headed the Public Technical College in Dammam, setting remarkably high standards in technical and vocational education in the Kingdom. The reforms he undertook in the institution focused on international collaboration, industry relations, technologically infused teaching facilities, and very high graduate employability. This chapter introduced Dr. Al Ansari to many public service opportunities. He served as advisor to HRH Prince Mohammad Bin Fahd Bin Abdul Aziz, Governor of the Eastern Province. He advised many academic and developmental projects in the Eastern Province such as youth empowerment, training, development, employment and entrepreneurship, youth rehabilitation and integration, youth awareness volunteerism and involvement, affordable housing and underprivileged community initiatives, special needs education and support, and of course academic excellence.
Educational Background
PhD. In Education (Training Teachers with Emphasis on English Language Teachers) – Southampton University, United Kingdom, 1995.
Masters Degree in Teaching and Learning, with emphasis on TEFL. University of Pittsburg, USA, 1989.
B.A. in English Language, College of Education, Riyadh University (The current King Saud University).